Home
WELCOME  Everyone to 2023
What is the LCC27?    Learn More (Click Here)
LCC27 is the acronym for the Leisure Cylinder Connection Type 27.  It is an evolution of the current portable gas appliance                                


Type 21 connection which is commonly referred to as a POL connection. The LCC27 has an EXTERNAL thread for connections to the appliance.
About the current POL valve  
The current Type 21 or POL connection is fitted to 8.5 kg or 3.7 kg LPG leisure cylinders.   It has a handwheel operated valve, an INTERNAL thread for connecting to the appliance, a pressure relief valve, ullage filling and a dip tube 

Will I need to buy a new barbecue or an adaptor?
No, you don't need an adaptor and they are specifically precluded from use in the relevant Australian standards because they increase the risk of gas leaks.  The LCC27 valve works best when connected to an LCC27 appliance connection but it can also be used with the old POL appliance connection ie it's backward compatible so you don't need to buy a new barbeque or other outdoor gas appliances.  On the other hand, the new LCC27 appliance connection can only be used with a new LCC27 valve cylinder.
At the same time, the old POL valve cylinder connected to the old POL appliance connection, which it was made for, remains a safe and reliable option.
---
CATALOGUE
View our New catalogue packed with all that Northern RV has to offer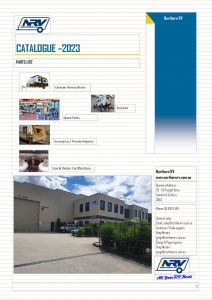 ---
Northern RV Services offer a wide range of services for your Caravan or Motorhome vehicles including repairs, Insurance-quotes, Servicing, Parts and Accessories. We are experts in Gas Compliance Certification and Electrical Safety for Caravans and Motorhomes. All work is carried out by licensed tradesmen with RV experience.
Based in Somerton in Melbourne and with over 20 years' experience in Caravan and Motorhome repairs, we have an extensive knowledge of all major brands of RV`s.
Here at Northern RV Services, we have a wide range of products which we can supply and install. Whilst we specialist in plumbing and electrical, we also have qualified staff in mechanical, Caravan building and cabinet making to service all of your needs under the one roof.
Caravan Pre-Purchase inspections in our Somerton workshop.

12 wiring and plug check, external Light Check.
Jockey wheel & leg stabilisers checked.
Tyres Checked for damage, wear and age including spare tyre's
Brake test & Hand brake operation tested
Chassis, Axles, suspension checked for wear or damage
External fittings gas bottles, jerry can holders, spare wheel mounts.
Rust Report
Hot water service operation, tap & water pump operation
Fridge operation . internal fittings and fixtures, hatch, window, catch operation. Awning operation
Towing Hitch checked
Gas and compliance certificates.
Give us a call 03 9357 5151  or send an enquiry today
These are just some of our services we offer the RV community, Servicing, Repairs,Insurance-quote, Refurbishing, Supply & Fit Gas & Diesel Heaters, Fitting Hot water systems, Supply and Fitting extra water tanks, Supply and Fit Grey Water Tanks, Water Filter Systems, Gas Appliances upgrades/repairs, External Showers, Satellite Systems, Battery Systems, Solar Systems, Air Conditioners, Reversing Cameras, Slide out BBQ`s, Electric Steps, Awnings, Annexes, Full Gas and Electrical services on most appliance installations.
Come and see the team or give us a call at Northern RV Services for all your RV needs.
Business Hours:-
Monday – Thursday  8 am – 3.00pm
Friday  8am – 12.30pm

---

Northern RV is part of the Fleetwood Australia business group along side Camec for all your RV solutions
Caravan Parts & Accessories
View more testimonials here.