Description
Aircommand IBIS 3 Airconditioner
The Aircommand Ibis MK3 roof top air conditioner has been designed for the Australian caravan and RV industry. With an even lower profile than its predecessor and increased capacity of more than 10%, it is designed in Australia for Australia's harsh conditions.
Aircommand have also made the MK3 whisper quiet, operating a full 8DB quieter on high speed than the earlier Ibis.
The MK3 will generally suit vans up to 22ft and can also be operated by remote control or via electronic touch pad controls.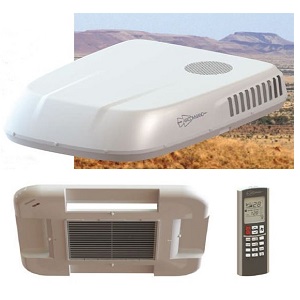 Features:
The Ibis MK3 is the lowest profile roof top air conditioner on the market. This low profile reduces towing drag and the clearance required under carports and garages. The Ibis is less vulnerable to damage from overhanging tree branches and other obstacles.
The Aircommand Ibis Mk3 gives unmatched efficiency in heating mode and is usually the most economical form of heating.
The Ibis MK3 has an ultra thin plenum coming in at under half the height of the earlier Ibis.
Four-way independently closing plenum with easily removable filter for quick cleaning.
Aircommand has included premium quality generator start technology as standard.
Multi function allows the Ibis MK3 to be set up using a timing schedule, climate control and dehumidifier.
"One Click" system with self-adjusting connecting duct to suit roof thickness
An electronically monitored de-ice system means the Ibis will deliver adequate heat even in low ambient conditions.
Specifications:
Electrical rating (single phase): 240V, 50Hz
Nominal cooling capacity: 3.1kW
Nominal heating capacity: 2.7kW
Maximum rated current: cooling 5.8A
Maximum rated current: heating 5.5A
Air delivery maximum: 180litres/s
Installed weight (including plenum): 45kg + 2.7kg
Roof Top Dimensions:
Overall height: 222mm
Overall width: 848mm
Overall length: 1120mm
Ceiling unit:
Inside plenum height: 32mm
Inside plenum width : 555mm
Inside plenum length: 535mm
Cutout size required 360mm x 360mm
Shipping Weight: 66.00 Kgs.
Shipping Dimensions: 120 cm x 80 cm x 45 cm.