Description
FOGATTI  –  Instant Gas Hot Water Service with control dial + black door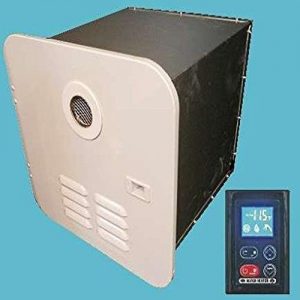 The RV Industry's First On-Demand Induced Draft LP Gas Tank less Water Heater! With controller
 Instant hot water
Unlimited Hot Water
No Recovery necessary
No Old Fashion Storage Tank
Energy Efficient-Dual BTU Burner
Environmentally Friendly
The Fogatti Product Tank less Water Heater incorporates a power blower that forces the combustion air through the heat exchanger (Induced draft). This patent pending technology results in a unit capable of providing:
Higher Combustion Efficiency than atmospheric heaters
Heat Transfer Efficiencies in excess of 90%
Higher Wind Resistance Performance
No Adjustments necessary at High Altitudes
High Burner Power in a small footprint
Quieter Performance
This unit is Approved for us in Australia, it has a similar gas consumption rate to the Suburban gas hot water system, however it should use less gas as it is only burning while the hot water is running. The unit fits into the same cutout as existing Suburban installations and existing wiring can be adapted for use, making changeover a breeze.
BTU/HR 34,000 – 27,000
Fuel Propane (LP Gas)
Inlet Pressure 10.5" WCI Min TO 14" WCI Max
Manifold Pressure 8" – 10" WCI Max
Power Input 12VDC < 3 amp
Water Operating Pressure 125 PSI Max
Maximum Water Temperature 125˚ F
Dimensions W 12.5" x H 12.5" x D 15.5"
Dimensions W 319m x H 319mm x D 395mm
**Please note this must be installed by a licensed gas fitter. A certificate of compliance will be required for proof of correct installation for any warranty claims.**